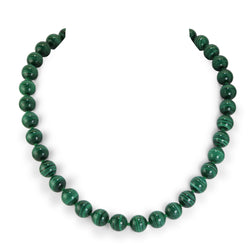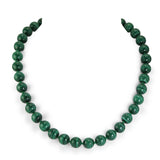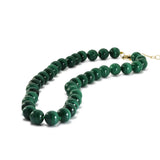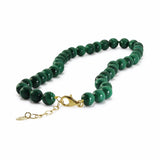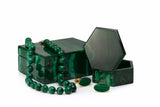 Braybrook & Britten
Malachite Necklace
Ref: R221
What's not to like about high quality Malachite? We were lucky because a few years ago out in Arizona at the big rock trading show (just before the price of Malachite went through the roof), we ran into the father and son who carve our stone boxes. They were buying (amongst other things) the Malachite boulders to make our stone boxes. Each huge nodule of Malachite is carefully assessed as some will be cut into sheets for boxes and some carved in other ways. Particularly the material where the pattering is fine enough and best suited to beads. We've had a few rows of these incidental beads before and when we had our last box production run we asked what they had and it amounted to a few strands of 10mm beads. Lucky us. And at this price, lucky you. Classic length 45cm long plus 5cm extension, all hand knotted with gilded sterling silver clasp which is the perfect contrast for such well coloured Malachite.
Hand engraving has a minimum cost of £39.00, which typically covers up to three initials or 10 characters in an inscription such as a name. If it looks like your engraving will cost more than this, we will confirm the actual cost with you by telephone or email once we have seen your order.
For further information we recommend you read Hand Engraving.
If ordering cufflinks, remember there are two cufflinks in a pair and hence will involve extra cost.
If you have a preferred style, please make a note in the notes box during checkout.
NOTE: In the run up to Christmas we reach a point where we may remove the engraving option on products because we have reached maximum capacity. Contact us and we can still arrange engraving for delivery after Christmas.
By Post? By Tomorrow?
Nobody likes waiting. We certainly don't. And if our own experiences of mail order are anything to go by there are some companies out there who always seem to be out of stock of everything.
Therefore we try to keep our very large vault stocked with everything in the current catalogue. And if we are low on stock, we remove it from the website.
We estimate that at any one time - even when it gets busy towards Christmas - we have 95% of orders packed and ready for despatch the same day. Rush orders on Special Delivery can go out the same day, if ordered before 1pm. Please note we despatch Monday to Thursday for most of the year and include Fridays from November to December.
However, please note that if paying by cheque, orders can't be despatched until the cheque has cleared. This may take up to 5 working days.
If you order something and we haven't got it in stock, we'll tell you there and then and give you an accurate estimate of when we will be able to despatch it. As a rule of thumb, if it is on the website it is in the vault or due in a few days (such as items expected back from hallmarking).
We can part despatch orders.
We can send your order to multiple addresses.
We can despatch overseas (See below re Tax deduction for export orders).
We use the ROYAL MAIL.
We offer two standard delivery options for the UK:

TRACKED 48 & 24 DELIVERY, which takes 2-3 working days once despatched. Close to Christmas all orders go out on a Royal Mail Tracked 24 or Special Delivery service.
SPECIAL DELIVERY, the insured next day service with online tracking and redelivery can be arranged for a set day. We recommend this for orders over £400.
PLEASE NOTE: Orders placed on a Thursday (after 1pm), will be posted on Monday (except Nov to Dec when we also despatch on Fridays). Special Delivery orders placed in this period will therefore be delivered on Tuesday. Don't forget to allow for additional days if there is a bank or public holiday!
HOW DO I RETURN OR EXCHANGE PRODUCTS?
Obviously if an item arrives damaged or faulty, just send it back to us and we will refund or exchange it and cover your postal expenses. If for whatever reason the items is not as you expected or isn't right for you, just post them back to us (carefully packaged and in original condition please), letting us know whether you require an exchange or refund, to: Braybrook & Britten Ltd, PO Box 78783, London W3 3HP. In the run up to Christmas we appreciate it might be several weeks before a gift is opened. Don't worry, we are happy to handle these exchanges and refunds in January. See our terms and conditions for more information.
INTERNATIONAL DELIVERY & VAT FREE EXPORT
Wherever you are in the world, we can deliver to you. Overseas deliveries can be via International Special Delivery, Airsure or FedEx. Details and costs for overseas deliveries can be estimated by going to the basket and selecting the delivery country. Sometimes, particularly large or heavy packages may require us to adjust the delivery cost stated - but we will inform you and get your consent before doing that.
Equally, if a package is smaller than average we often reduce the standard delivery cost on the order. Every little helps.....
NOTE: Orders being sent outside of the UK (or certain tax exempt territories and BFPO postings) can have the 20% VAT (UK sales tax) deducted. Please be advised that depending upon value or local revenue laws, some import duty or sales tax may be charged by your local Customs & Revenue. The checkout process normally deducts the 20% VAT when the delivery country address is confirmed. If it doesn't, don't worry, we will spot this and credit it manually.